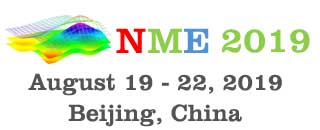 2nd International Conference on Numerical Modelling in Engineering (NME 2019)
We are calling for reviewers
All submitted papers will go through the peer-review process, the organizing committee is calling for reviewers, if you are interested in reviewing papers, please send your latest CV to nme@nmeconf.org or submit an application in NME Peer Review System.

Reviewer Requirements:
• Qualified to PhD level (or equivalent)
• Active researchers in this filed
• At least have one or more recent publications in peer-reviewed journals

Reviewer Benefits:
• Refresh your knowledge
• Build your reputation
• Gain valuable experience
• Keep up to date with your research field
• Enjoy a discount on your conference registration fee
• Be a potential candidate of TPC member of the next NME conference

Reviewer Responsibilities:
• Review and judge the manuscript objectively
• Inform the conference committee if any plagiarism exists
• Keep the reviewed manuscript as confidential file
• Send back the review comments in time (normally within three weeks)
• Not to copy or use any information obtained during the review process

Discount Instructions:
• The discount is only used for covering the conference registration fee.
• The discount rate would be offered based on the quantity and quality of reviewed papers (with no upper limit).